5 Question Friday makes me so happy!!
1. Have you ever visited another country?
I have! I've been to two. I went to Orangewalk, Belize in Central America for a mission trip when I was in high school. We got to spend 2 days in the Carribean and it was beautiful! I'll upload some pics and add them to this post when I get home. (I'm at work now, so no can do!) I've also been to Iquitos, Peru in South America. This place will forever hold a special place in my heart. This was also a mission trip. I went with my mom and we taught English in the villages on the Amazon River and also in a church in town. It was an incredible experience. I can't wait to take Madi on trips like this to really open up her outlook on what's important in life. I've also been to the Bahamas but I don't know if that's considered out of the country?!
2. Where is the strangiest place you've ever been?
I have a really good answer to this, but it may offend some people so I'll pass. :)
3. What is your favorite season?
Ask me in the Winter and I'll say Summer, ask me in the Summer and I'll say...Summer. So I guess Summer is my fav!
I love love love Winter in Alaska because it's just so pretty & I LOVE snow shoveling!! I miss it! It's the best work out too! Spring in Alaska is HORRIBLE because it's "break-up" and all of the snow is melting and dirty. In SC, I love Summer because I can go swimming and get a tan and travel a lot!
4. What is one song that will always cheer you up?
Anything upbeat and happy, really. Christian songs are always good pick-me-up songs too!
5. Which Disney character do you resemble most most resemble?
The "resemble most" is aggitating my OCD but I'll let it slide...or try to...okay I failed (hence the cross out). Anyway, I don't really "do" Disney, even though Madi is trying her hardest to break me of this. I guess I most resemble, as in look like, Belle? Only because I have brown hair. I don't think I act like any of them though.
Link up by clicking the button below!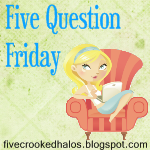 and also check out Follow Friday!