Top 2 Tuesday: Top 2 Favorite Items from 2010!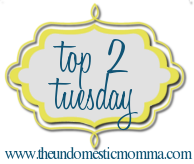 1.
iPhone 4
- This little gadget has made my life complete.
Okay, that's an overstatement, but you get the idea.
I absolutely love my iPhone 4. It's sooo much better than the previous iPhones.
2.
2010 Honda Civic
- My car! I absolutely love, love, love my car! I especially love that it only cost me $28 to fill-up too!
(For those of you confused, yes I did replace my Honda for a Jeep but that's a lloooonnnggg story...I still have my Honda. That's the short version.)
My Honda makes me smile. :)
What are your top 2 favorite items from 2010?