Today I'm linking up with Lindsey and Rachel for the first day of their Jiggle Weight Loss Challenge! I'm pretty excited, because I think this is just the motivation I need!!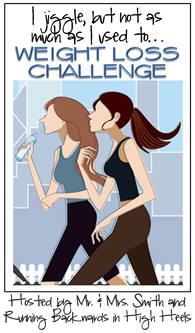 I am not overweight or even at an unhealthy weight, but I am uncomfortable with my weight right now. For the first time ever I was actually looking at tankinis instead of bikinis. Talk about depressing! I had a baby almost 3 years ago; it's time to get back to my old weight!!   
My goal - To lose 9lbs by the end of this challenge - 8 weeks from today!  
My fitness plan - I will be walking the dog every day with my family. I believe our usual walk is about 1.5 miles around the neighborhood. On the weekends we usually do this at least 2 times a day. I also plan to do work out videos and/or Dance Central. (Gotta make it fun sometimes!) I am not going to have a set time I will do these because my schedule is crazy and I won't stick with it if I have to do it at a certain time.  
My diet plan - I am not a dieter. I will monitor my calorie intake and make sure I am burning what I need to in order to balance out. I am not going to say bye-bye to sweets and junk because hey, it's Easter and that's not reasonable! I am going to try to cook more meals at home and eat lunch at work. This will really cut back on the amount of calories and fat I'm eating a day. Also, I stopped drinking Diet Coke on Sunday and started drinking a lot more water. When I don't feel like water, I drink Crystal Light. I have really noticed my appetite changing for the better since I've stopped drinking Diet Coke.  
I'm really excited about this and even more excited that my husband is doing it with me! He has been eating better ever since I posted that first post about wanting to lose weight and he's actually lost about 10lbs already!! It's so much easier when you have someone doing it with you.  
Good luck to every one and I can't wait to see our progress so we can get into those bikinis this summer!!