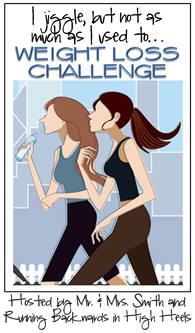 I know I may lose some followers by doing this, but I am not going to participate in the weight loss challenge after all. I think it is a GREAT challenge and I look forward to seeing everyone's progress. However, I just feel like I am not doing this for the right reasons. I lost 3 pounds last week but all I did was stop drinking Diet Coke and drank only water. I did cheat and have about 3 Diet Cokes, but for the most part I drank about 3, 24oz bottles of water a day. So, I really feel like cutting out the DC was a good decision! It really cut out my desire to snack!!
But, back to why I am no longer participating - I do not have much more weight to lose. I am actually at the low end of the healthy range for my height and I feel like by participating and posting my weight would only discourage others. I will even go as far as to say I'm being shallow. I have ridiculous expectations - to weigh what I did before I got pregnant AND for my body to look the same. I am only about 4 lbs away from weighing the same, but my body looks no where near like what it did before I had Madi and it's not going to. I realize that now.
I wish all of you the best of luck and I know all of that sweat and soreness will pay off! I really hope no one looks down on me for this. I'm just being honest. I have some toning up to do but as far as losing weight goes I think I am happy with where I am.