Man it's been a while since I've linked up for Five Question Friday! I have missed it!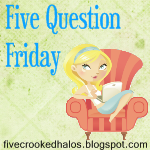 1. If you had the opportunity to bungee jump, would you?
YES!!!! I have always wanted to bungee jump! I have been bungee swinging at an amusement park but it is so not the same. The only thing that kind of makes me nervous about it is that you typically jump off a bridge and I'm just scared of being dipped in the water. Idk. I'm just not a huge fan of going under water at fast speeds. I know you aren't supposed to hit the water, but ya know...these are my thoughts. Despite this - yes! Let's go jump NOW!
2. Would you rather go to the movie theater or to the drive-in?
Movie theater. Hands down. "Easy peasy lemon squeezy" as Madi says. I do not do bugs or outdoors. I just think it'd be uncomfortable. I'd much rather sit inside and watch a movie.
3. Do you have your groceries delivered?
Um, do you?
No of course not. Okay, I feel bad. If someone actually said yes to this question then forgive me. I just didn't know people actually did that. I mean I guess if I was unable to go out of my house then I would, but otherwise - no, I go to the store for my groceries.
4. Eyebrows: Do you wax, thread, pluck, or stay au natural?
Okay let me start by saying yes I do pluck my eyebrows! I wax very rarely and then try plucking to keep the shape and then get them waxed again when they have lost their shape. At least that's the idea. I need to go get them waxed asap. But I pluck at least twice a week!
Oh and I'm curious about the threading but idk if I'd pay to have it done.
Now, let me just say this: Moms, PLEASE inform your daughters that they need to pluck their eyebrows!! (at the appropriate age of course) I still give my mom a hard time about this - I went through
middle school and high school
with a freaking unibrow because I was never aware that I should pluck my eyebrows! I didn't know that wasn't normal!!! GRRRR. Thanks mom for the great senior pictures and my lack of a cool factor during my adolescence.
5. Would the people you went to high school with be surprised by your life today?
No, because they are all on Facebook and have had full access to my life since my junior year of college! :) Okay but seriously - probably not so much surprised by my life but by my looks. As noted above, I was not living up to my full potential, we will say, in high school. I've lost weight and actually wear make-up now and clothes that fit. :)