I'm linking up with Shannon for So What! Wednesday. :)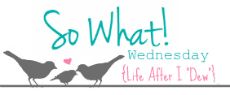 So What! if...
I stay up late and then complain about being tired the next day. I need my "me" time!
I just spent $15 on a keychain. It's super cute and monogrammed. Important, duh.
my husband automatically questions my use of WebMd anytime I self-diagnosis.
I eat pb&j way more now than I did when I was a kid.
I get excited when I don't have any plans for a weekend.
it's Summer. I'll only go outside when absolutely necessary. Nature = yuck.
Mother's Day is over. I desperately want a Gussy Sews tote! *hint, hint hubby*
What are you saying So What! to this week?