This is my last half day Friday at work. Effective September 1 we are going to a 40 hour work week. Poor me. :( I guess I better make the most of the afternoon! What to do, what to do... I'll let y'all know what I decide. Until then, FQF!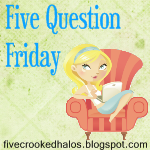 1. How many pets do you have?
Zero. What a boring answer. If I did have pets though, I'd already have gray hair. I can assure you of that.
2. If you could switch places with anyone in the world for one day, who would it be?
Dang. This is tough! So I considered Carrie Underwood & the President (no thanks). Then realized I wouldn't want to be in a famous person's shoes. I think I'd really like to trade places with someone like Mother Teresa (if she were still alive). So I'll say a missionary. I did a few weeks of mission work in my teens (dang, I sound OLD) and it was the most rewarding feeling. I would love to be able to go back to a third world country, or even somewhere that needed help in America, and serve for a day. I really miss being involved with mission work and hope to continue it once little Madi T gets a bit older.
3. What is your favorite money saving tip?
BAHAHAHAHAHA. You are asking the WRONG person. My answer is - coupon codes. And guess how many times I've used them? Once. I stink at saving money!! In all seriousness though, I do want to get better at this. Some of my friends have found a new coupon site,
Southern Savers
, and they have been saving crazy amounts of money on groceries. I'm going to have to get them to explain it to me and then I'll explain it to you guys. Unless of course y'all figure it out first. I think I'm just too impatient to read all of the info.
4. What do you want your kids to be when they grow up?
This is going to sound totally cliche, but I really want Madi to be whatever makes her happy. Okay, back up - if that means being a stripper (no offense to strippers of the world), then no I do not want her to be one of those. But, I really just pray that she will have passion for something and pursue it. I wanted to be a teacher since I was 2 years old and let my fear of public speaking hold me back. I majored in English and now I work in the insurance field. This isn't horrible by any means, but I'd much rather her do something she loves than something that she just settles for.
Sorry, I'm in a "talkative" mood...
5. What is your favorite quote?
My "go-to" quote is : "I can do all things through Christ who gives me strength." -Phil 4:13
Funny quote: "I feel like I just found out my favorite love song is about a sandwich." -27 Dresses
Song quote: "Laughter is my soul's release." -Goo Goo Dolls
TV quote: "Life's short; talk fast." - The Gilmore Girls
& a little dose of Madi T to brighten your day:
Have a great weekend y'all! <3