This weekend is a girl's weekend! My bests and I are headed to Atlanta (yes, Miss Madi is included in my "bests") to shop 'til we drop! Northpoint Mall here we come! We are leaving Saturday evening due to a work conflict but will have all day Sunday to play. Yay!
It's Friday so you know what that means - Five Question Friday time!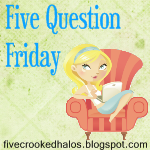 1. What is the most physically painful thing that has ever happened to you?
Childbirth. Hands down.
Well, let me be more specific - not exactly the
birthing
itself, but the time leading up to the birth aka contractions. After I got the epideral it was smooth sailing but before that HOLY MOLY. No one told me my whole body would be shaking uncontrollably and the dumb nurse would make me walk around after I'd been walking around all darn day in the snow, at the mall, & at the commissary THE DAY BEFORE THANKSGIVING!!!! I had done enough walking
thankyouverymuch
. Sorry, I digress. That's a story for another day.
So, labor contractions in case you missed that!
2. How much sleep do you get at night?
On average, I'm lying in bed for about 7 hours. Notice, I did not say sleeping. Some nights (& yes I realize this is my fault) we have a toddler in our bed, so I probably sleep about 5 out of those 7 hours. But for the most part I get about 7 hours of
rest
.
3. How long did you believe in Santa Clause? How did you find out that he did not exist?
I think I was 8 when I found out Santa wasn't real. One day I asked my mom if the Easter Bunny was real because the idea of a bunny hoping around and leaving baskets on front porches
(see side note below)
just seemed a bit questionable to me. Well, my mom figured I was asking about every childhood myth so she told me Santa & the Tooth Fairy were both made-up also. I was not a happy camper. I remember telling her I only wanted to know about the Easter Bunny!!
*side note - Am I the only one who was told this story about the Easter Bunny? My husband and other friends of mine thought I was crazy when I mentioned it. Haha! I thought every kid was told that just like Santa bringing gifts down through the chimney.*
4. What was the last movie you saw in the theater?
Hubs and I went to the movies last weekend and saw Due Date. It was hysterical!!! Very crude at parts (typical) but still SO funny! I wouldn't recommend watching it with your parents, like the family we saw leaving the theater, but definitely a good date night movie!
"You better check yourself before you wreck yourself." :)
5. What do you wear to bed?
Orange AE lounge pants and a t-shirt. So sexy, I know. My poor husband. What can I say? I like comfort and think those women in movies who wear lingerie to bed every night should be slapped, because they are giving our husbands false hopes. Unless of course you all do that, and in that case I guess I'm just a lazy, crappy wife. Whoops.
Today is the last day to enter my
Tyler Candle Giveaway
!! Don't miss out, enter now!
Happy weekend y'all!!