Oh what a day. Moving on! ...
Top 2 Tuesday: Top 2 Healthy Recipes and Snacks ...let's change this to Brittan's version of healthy. Y'all know I don't really do
healthy
. :)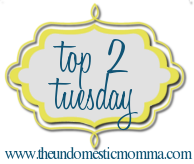 1. Sugar Free Jell-O cup with Sugar Free Cool Whip!
Yes, I'm simple like that.
2. Baked Cheetos.
YUM. Although I'm pretty sure to make the "baked" part count you probably shouldn't eat the whole bag like I do. Actually, I just eat all of the really cheesy ones and leave the rest of the cheetos to get stale until I decide to throw the bag away. True story. :)
So, I have had the day from heck and this is just what I needed to put a smile on my face...oh my gosh I cracked up...HILARIOUS.
You're welcome. :)