I am a tad bit down in the dumps right now - hopefully it won't reflect in my answers. I'm hoping doing something to get my mind off of things will help too.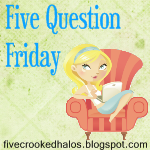 1. Do you know what your REAL hair color is?
Yes I do and I miss it terribly. I got my hair highlighted for the
first time
a few weeks ago and I seriously regret it. I liked it at first but now I think it just looks fake. I'm also kinda peeved that the stylist cut almost 2 inches off when I asked for a trim.
2. Do you plan ahead for summer, or fly by the seat of your pants?
I'm not really sure what this question is referring to - weight loss, planning vacations? Well, I'm starting to think about getting into a bathing suit since it's already getting hot here. I totally bought ground turkey instead of beef today at the grocery store, go me! So, I'm going in the right direction at least! As far as vacations - well we usually don't go on any. We are more the spontaneous weekend trip kinda people, and unfortunately we don't even have any more vacation time left after that lovely 7-day MUSC stay. :(
3. What is your favorite meal to cook?
Probably meatloaf because I know I make it well and hubby loves it! I do not like actually mixing all that junk with my hands (gross!), but I do like knowing it is appreciated and enjoyed!
4. Do you get offended by not receiving thank yous?
No, I don't get offended. Honestly, I probably wouldn't even notice if I didn't get one for something. I find it more awkward when I receive them because then I feel like I need to thank the person for sending a thank you note. Weird, I know - especially since I *always* send them!!
5. How did you meet your best friend?
I have quite a few best friends but my oldest best friend is Carrie. We met in 7th grade homeroom with Ms. Westbury. She HATED us!!! I don't remember how Carrie and I actually became friends, but I know she remembers. She has a great memory, unlike me! It's crazy though - we have been friends for FOURTEEN years and have like no pictures up until these past few years.
Yay for Friday! We have no weekend plans and I'm perfectly happy with that. What are y'all doing?