Top 2 Tuesday: Top 2 Random Facts about Me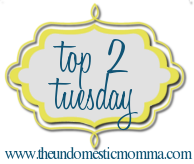 Oh gosh, I already gave y'all 100! I don't know if I can think of 2 more!!
Random, random, random...
#1 - I am TERRIBLE with keeping plans.

I hate making plans because I rarely stick to them. I am much better at being spontaneous. Want to go on a roadtrip *today*? Sure, let's go! Want me to meet you for lunch next Thursday at 1pm? Not so much. I think I just tend to over-analyze when I plan. It's nothing personal; I'm just not good at it! So, if you want me to be somewhere then call me an hour before and chances are, I'll show up! :)
#2 - I am a daredevil.

You'd never guess it since I'm scared of ridiculous things like the dark, feathery animals, and cotton balls; BUT I loooooove rollar coasters, bungee swinging, zip-lining & anything fast. I once blacked out and then immediately after went bungee swinging. Seriously fun!! I want to go bungee jumping really bad and I have always wanted to sky dive! I actually had the opportunity in Alaska but I was a new mom and just felt like it would be absolutely horrible and irresponsible of me if something happened to me!! One day, I will do it though! Can you tell that I'm getting re
ally excited about this? It's because our theme park opens at the end of this month. YAYYYYY!!!!
My favorite coaster ever!
What are your top 2 random facts? I want to know!