I am SO happy it is Friday. This has been such a long week. We have NO plans this weekend except for church, of course. I'm super thrilled to do nothing!!!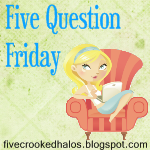 FQF time!
1. How often do you shave your legs in the winter?
About once a week, at least. I can't stand to have hairy legs!!
2. Valentine's Day cards for your spouse: funny or romantic?
A little of both? I bought the cheap $1 cards at Target this year. :)
3. What are you most looking forward to about spring?
Days at the playground with M! She is finally at the age where she can (and will) play by herself and I can relax. :)
4. What's your favorite way to pamper yourself?
Pedicures!!! I've only ever had two or three but it's a nice thought. :) Honestly, just getting to stay up late by myself makes me happy.
5. Does your tax return go into savings or do you spend it instantly?
Well, in the past we have spent it on needless things and maybe one bill. This year it is ALL going to bills. I'm excited about it too! We are (very) slowly working towards getting out of debt!
This is a great Friday for the movies! The new Denzel Washington movie & The Vow come out!!!