Oh I love you Friday.
I plan to do as little as possible this weekend.
We have a busy weekend ahead of us. Madison has informed us that she would like to go to the zoo, and we plan on getting her haircut (her 1st!!!!), then there is also pumpkin carving, trick-or-treating and church! Maybe I'll get a date night if I'm lucky!
Five Question Friday Time!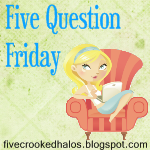 1. If you could be a fly on any wall, which would you choose?
Well, I thought long and hard about this one. At first I considered people I know personally: family, friends but that didn't strike a cord. Then I considered famous people - yes celebrities. I would love to be a fly on the wall at a celebrity's house (probably Carrie Underwood or Jennifer Anniston) just to see how they live their lives behind closed doors. I mean are these really
real people
, or are they always "red carpet ready, hoity toity" people? I'm totally curious, but not in a stalker kind of way. Promise.
2. Do you budget your Christmas shopping or just get it done without budgeting?
Normally, we do not have a budget. However, this year I think it will be necessary. I think if nothing else, hubs and I at least need to have a budget on how much to spend for each other. He always goes above and beyond for my gifts and then I end up feeling guilty, because I know they cost
way
too much. So a budget would definitely solve this problem, and save our bank account!
Also, I hate to admit it, but husband may need to give me a budget for Madi's Christmas presents. I have this problem where I feel like
everysingletime
I go to the store I have to buy her something. I just can't help it! Baby girl stuff is just too darn cute!!
3. What is the craziest fad diet you have ever done?
Actually I have never really been on a crazy diet. The only "diet" I've ever really been on is one I made up myself. It consisted of turkey sandwiches, sugar-free jell-o, lean cuisines, & baked cheetos. Oh, and ice cream! It was a great diet! I know, I know - no veggies. Read my "100 Things" if this baffles you.
4. Is there a TV show that you have seen every episode/season of?
IS there? Ha! Oh yes, you ready?
The Gilmore Girls (every episode, every season,
at least
two times)
The O.C.
Desperate Housewives
Dexter
I looooove these shows! They are awesome! If you haven't seen these, pleeassee add them to your to-do list asap!
5. What one song always pulls at your heart?
"Somewhere Only We Know" by Keane - I think I've mentioned this song before when I was doing the 30 Day Song Challenge. This song was played at my dad's funeral and it was one of his favorite songs. Everytime I hear it, I think of my dad.
"Mama's Song" by Carrie Underwood - Now that I have a little girl it is very difficult for me to listen to anything mushy about daughters. I just love this song and always tear up because I think of Madi being grown-up and getting married. It makes me sad! (Sad because that means she won't still be living under my roof! But of course I'd be happy for her too!)