It's Awkward & Awesome Thursday time! Link up with
Sydney!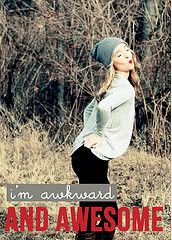 Saying something to my husband's boss as a joke, but she ignores me or doesn't hear me.
When the person leaving a building holds the door for me, but I'm not actually going into that building. To go in or not to go in...in an effort to make them feel less awkward?!
Forgetting that I was out sick last week so I stutter when my boss asks me if I'm feeling better.
Plucking my eyebrows in the car (natural light is best!) only to later realize someone else is sitting in their car watching me.
My unexplainable craving for Doritos for the past few weeks. No, I am not pregnant.
Taking someone to church for the first time only to find out that the preacher is discussing bodily functions that day. Yes, I go to NewSpring. :)
Avril Lavigne's new single! Yes, I am still a teeny bopper at heart!
Having a super-techy husband who can fix my iPhone when I unsuccessfully try to update it!
Madi didn't use a pacifier today at naptime and she is slowly starting to potty train!! (More on this very soon!)
Playing Dance Central for 2 hours and then realizing I also just got in a great workout! Gotta burn off those Doritos somehow...
Having a 3 day work week and then a 3 day weekend!
As always, God!
Having such great followers of my blog! I mean that, y'all are awesome!
Did you have any awkward and awesome moments this week?