I know this was only a 3 day work week for me but I am totally ready for the weekend. We do not have any real plans and I just love that! Hopefully we will see some friends and relax all
three
days!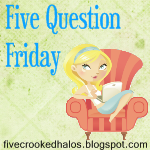 1. What movie could you watch over and over again and not get tired of?
Oh bother. I suppose the typical "chick flicks" - The Devil Wears Prada, Mean Girls, & Because I Said So. Love these movies!! Although, I wouldn't really say I could watch them over and over again, or any movie for that matter. If they made a Gilmore Girls movie, then I think that would be a possibility.
2. What's your biggest pet peeve right now?
Hrm. I have about a billion. One pet peeve is slow drivers. More specifically, people who turn slowly. You know, they practically stop just to turn and then speed up again. GRRRRR. Get off the road already!!!
Okay. I'm fine now.
3. If you had to describe your best friend in five words or less, what would you say?
I have a few best friends and this pretty much sums up them all (except hubs!) ---
pretty, ditzy, loyal, funny, & ocd :)
4. If you don't have to worry about money or go to school what would you do for a living?
I would stay home with my daughter! But I would definitely have to start volunteering and/or take on some other tasks to avoid complete boredom! Once Madi grows up, I would love to be able to volunteer in third world countries. That is something hubs and I both really want to do one day!
5. What is your one "splurge" item, that you will always buy, no matter the cost?
DIET COKE! Okay, I know this isn't that expensive but I've bought Diet Pepsi before because it was on sale and Diet Coke wasn't and let me tell you, I will never do it again. Nothing can substitute for my Diet Coke!!!
Another thing would be my iPhone. They are a bit more expensive than other phones, but I love it and have become totally addicted.