Top 2 Strange Addictions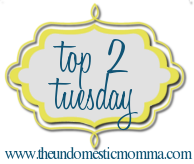 I'm not really sure if these are all that strange, but...
#1.
Splitting my split ends
- This one is actually on
Taylor's
list too! I do this when I'm bored or am trying not to bite my nails. I'm sure it's not good to split my split ends but I don't think it's horrible either!
#2.
Messing with my eyes
- I am just such a fidgetty person! I have always messed with my eyes. I rub my eyeballs actually, which is apparently strange to some people?! I find it completely normal. Husband says I actually have like a routine - rub one eye, then the other, then both or something like that. I don't notice when I'm doing it.
Don't forget to watch
the show
on Wednesdays! It's soooo entertaining!!