I love this weekend! Tonight we are going to Greenville to have dinner with my BFF and to do a little shopping. We are staying there for the night and then in the am we are hitting the road to Helen, Georgia to visit Justin's grandparents! I'm so excited to see them again and also thrilled that Madi is going to get to meet her great-grandparents for the first time! I'll be sure to post lots of fun pics from the trip.
This week's Five Question Friday questions are kinda deep! At least, for me. So here we go!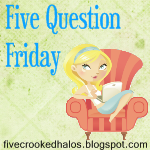 1. Have you ever testified in court? For what?
Boring answer - nope.
2. Do you still have your wedding dress?
Ay yi yi.
This is a sensitive subject for me. We did not have a wedding and I did not have a wedding dress. But, I will elaborate on this later. Husband and I are thinking of rectifying this within the near future.
3. Is there a special place you like to go when you're happy, sad, stressed, etc.?
Okay. If I tell you, you have to promise not to laugh. Promise?
I haven't done this in a while - well like a few weeks, but when I get *really* stressed/frustrated/upset I like to go sit in a dark closet. Okay please don't leave. Ha. It's weird yes, but there is something I find comforting about being in very small, dark spaces when I'm upset. It calms me down.
This is really confusing to me though because I'm usually very scared of the dark! I'm a strange girl I guess.
4. If you have kids, do they sleep with you? If you don't have kids...will you let your kids sleep with you when/if you have them?
Yes, Madi does still sleep in our bed. I know, I know - that
bed we bought her
was supposed to do the trick. FAIL. Truth is, I do not mind her sleeping in our bed. I kind of like it
when she's not kicking and slapping me in her sleep
because it makes me feel like I get to spend more time with her, even if we are asleep.
For those of you who don't have kids yet and say you won't let your kids sleep in your bed - you'll change your mind when they are screaming their heads off in the middle of the night and all you want is to go back to bed. Oh, you'll cave. We all do. :)
5. Do you watch late night TV?
I watch TV late at night. Does that count?
I don't want like Conan or Jay Leno or anything like that. I usually have the TV on HGTV or Food Network simply for the noise while I'm on the computer or something. I always have to be multi-tasking.
If you stuck around through this one - congrats! Glad I didn't scare you off!
Happy Weekend! :)