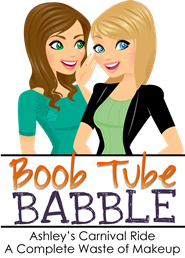 I haven't been on a reading kick these past few weeks which means I
have
been on a tv kick. Well, hulu kick that is. Here are a few of my fav shows right now!
Pan Am
- This show is SO good!! I honestly had no clue what it was about but kept seeing things about it on Twitter. I was bored one night and watched a few minutes on tv, then had to go watch the previous two episodes on
hulu
. It follows the story of 4 stewardesses of Pan Am and is set in the 1960s. There's a bit of suspense thrown in there too. I love the clothes and the actresses. I find myself smiling at my computer while watching it. Kinda strange, but true!
Criminal Minds - So glad the new season just started. If you've never seen this show you are totally missing out. It's like Law & Order but better. I love L&O: SVU but this show takes it to another level. These detectives are criminal profilers and really study the crimes to figure out the suspect. It's a great show to watch with your spouse!
New Girl - This is a new sitcom about a quirky, unusual girl who moves in with 3 guys. It's hilarious. I laugh out loud and want to be best friends with Jess (Zoey Deschanel). I was looking for another funny, light-hearted show and this is it!
What have you been watching lately? Do you like these shows?
On another note - THANK GOODNESS IT'S FRIDAY!!! This has been such a long week. Tonight I'm going out to dinner with my best friend Melanie and tomorrow I'm going to an out of town baby shower and then to the fair!!! Lots to recap next week. :) Have a great weekend!!