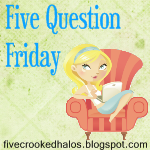 I'm linking up with Mama M today for FQF! She is in Mexico (lucky!) so
Kate
is hosting the link-up. Check it out!
1. What's the last thing you bought yourself?
Well, I take this to mean something snazzy I bought myself, not just like groceries. So, the last cool thing I bought myself is the Clarisonic Mia. I will post my thoughts on it soon!
2. What is your favorite meal on a cold winter day?
Uh, pizza? I don't know! I don't really eat things based on the season. Well, I do eat sausage & cheese balls, typically, only in the winter. So, there, that's my answer.
3. Have you started looking at swimsuits this year, and do you buy a new one every year?
No, I have not started looking and I do not want to either. I usually do buy at least one every year. Sadly, this will probably be the first year I don't wear a bikini. Depressing.
4. If you could be any candy, what would you be and why?
A Sweet Tart!! I'm obsessed with sweet tarts. They are sweet, tangy, and pretty. Who wouldn't want to be those things?
5. What are you most passionate about?
JESUS!!! I love Jesus, my church, and learning more about Him. I love talking to others about Him and changing every day (hopefully!) to be a better Christian.
Bonus Question - 6. What is your favorite thing to pin on Pinterest?
Probably food! Ha! Not because I'm actually going to make anything on there (although I have tried once, surprisingly), but because I think food pictures are really pretty.
Bonus, Bonus Question (by yours truly) - Who can help me fall asleep for approximately 45 minutes?
M was awake from 3:30-4am screaming that she was hungry. I caved at 4 and gave her a cereal bar. Now she and J are fast asleep and here I am, wide awake at 5am. Oy. At least it's Friday, right? Oh wait, I work tomorrow too. Okay, at least I have off on Monday. That works. :)