I'm linking up with Sarah & Holly for Flash Forward Fun. The idea is to write a letter to our child(ren) for them to read in the future. Fair warning - this post is l-o-n-g. If you make it through, go buy yourself a cookie.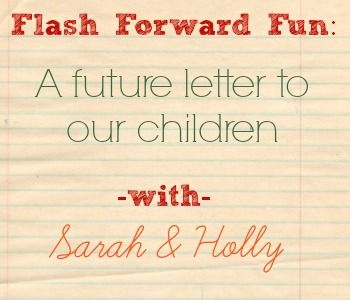 Sarah & Holly provided some fun prompts so I'm going to do those too, but first the letter.
Dear M (pronounced "em"),
Writing this, I am picturing you - now a young lady, with your long brown hair curled at the ends. I see you with glasses, perhaps just a fashion statement, as you wore when you were 4 years old. You're dolled up in jewelry and wearing a dress, of course. Not pink though. You've moved on from pink. I think your favorite color is now green.
My hope for you is that you've never been hurt. Unrealistic, yes, but still my hope. I hope you've found something to be passionate about - whether it's school, art, dentistry, or something completely different - I hope you love it. You are strong willed and a fighter so if it's something you want, I have no doubt you'll go after it.
I want you to have a strong, intense relationship with God and I believe in my heart that you will. At age 4 you were telling me which of your friends you didn't think were Christians. You wanted to invite them to church - and you did. You care for others and I am sure that hasn't changed. I just pray that the events in your life up to this point have not strayed you from your affirmation that God is good. God is always good. The world may not be a nice place sometimes. But God is your refuge.
I pray about your future husband. I have been since you were 4 years old. I pray that he is a Godly man. I pray he is someone who will love you in the best way. I pray that he is your best friend. You may be with him now. You may be dating, or you may be married. (I'm picturing you reading this when you're 18, so hopefully you are not married yet!!) With that being said, my advice in that area, is to take your time. Take your time getting married. There is no need to rush. Enjoy your twenties. Don't rush to have babies. Spend time alone - getting to truly know who you are: what you like, what you don't like, what you want, what you need. These things are much harder to figure out once you're with someone. I know my Madi girl though - you know this and chances are, you already know exactly who you are. That is something I didn't figure out until I was, well, 29 which is how old I am now. I may not even still have it all figured out.
So to sum this all up, I hope you have found something you absolutely love, and I hope you do not make the same mistakes I made. I know you still have your determination and your hilarious spirit. You can make anyone laugh at any moment. I hope you are driving your pink & purple VW Beetle and I hope you're working at Aflac with me until you finish Dentistry school. I still have your blankie so come by and smell it anytime. And I'll gladly paint your nails and read you a Berenstain Bears book.
I love you more than french fries sweet girl. So, so, so much more.
Love always,
Mommy
- - - - - - - -
- - - - - - - - - - - - - - - - - - - - - - - - - - - - - - - - - - - - - - - - - - - - - - - - - - - - - - - - - - - - - - - - -
Madi is currently 4 years, 10 months old.
Personality: Madi already acts like she's grown-up so I really don't think her personality will change much at all. She has the best sense of humor. She is witty and sarcastic and laughs all the time! She gets frustrated quickly when she doesn't understand how to do something.
I think the biggest change in her personality will be that she will open up. She is very shy right now, but I can already see improvement after four days of school!
Food Choices: She will most likely continue to be a picky eater. Hopefully she will branch out more; otherwise, she will be very bored with her food in a year or two. Chicken nuggets, mac & cheese, applesauce and crackers will only get you so far. Gotta at least add cheeseburgers to that list!
Near or Far: I would be very surprised if she moves far away from home once she's on her own. She is very much a family girl. She's surrounded by grandparents, cousins, aunts, uncles, and of course her parents. She is very close with all of us. I think she will go to a local school, perhaps Clemson, if I keep her going in the right direction. ;) She wants to be a dentist and I truly believe that if she has a passion for it, she will become one. She has motivation even at the age of 4. I see big things for her in the future!
Kids: We have talked a bit about the number of kids she wants. She has said one because any more than that would be too much work. Wow is she right! Guestimating - I predict she'll have three kids. Not sure the reason I think that - just seems right.
Spirituality: I also must say that I see her love for Jesus only escalating with time. She already has such a solid understanding of who Jesus is and why we worship him. It's truly amazing. I give thanks for that to KidSpring, the children's ministry at my church - NewSpring, and I had a small part in it too. :) I definitely see her plugged in to a church and sharing the message with others. She already does that now!
Tats, Piercings, & Risk-Taking: I'm saying she'll have no tattoos, no more piercings (she has her ears pierced already), and will be very much a rule follower. She's a dare devil already, but in the amusement park aspect, not the getting into trouble scene.
Man this was fun but emotional! Link up to join in on the tears predictions of where your kids will be in the future.