Earlier today I was thinking about taking a family day trip this weekend, but after talking to Madi she informed me that she wants to stay home. She wants Justin and I to play "castle" with her. :) So that is just what we will do. I think it will be nice to have a cozy weekend at home and maybe even venture out to the park if we really do get that 60* weather I've been hearing about.
On to my favorite part of Fridays!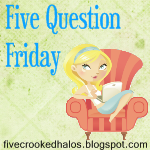 1. If you had $1,000 to donate to a charity, which would you choose?
This is easy - St. Jude's Children's Hospital because they always send me those super cute, kinda tacky address labels that I use on my bills. :) Okay kidding - that's not really why. I'm a mom and that means children have my heart. I would love to be able to donate lots of money to this wonderful charity.
2. Snow days: Do you welcome them happily or are they a pain in your butt?
Hm. Depends.
If I go outside and "play" in the snow and then come back in - pain in my butt because then I have to clean up the massive mess that all of this snow brings. If I don't go outside and get to cuddle inside with my family all day then I welcome it!
3. What talent did you wish you had and why?
Hm.
Did
I wish? So when I was a kid I'm guessing? Well, I have always wanted to be able to draw/paint. I still do wish I had this talent. My dad was a great artist and I guess those genes just skipped right over me!
4. Are you a news, politics, or celebrity gossip junkie?
Omgosh. Celebrity gossip PLEASE! I am
obsessed
. News? Politics? Not my thing. Knowing that every woman in Hollywood right now is pregnant, now that's important information.
5. What is your favorite "cocktail"?
Boring answer, but I do not drink. Beer makes me gag (so nasty!), and I used to like vodka cranberries but now I'm more of an Icee kinda girl! :)